Logistics in Tuscany
The best location in the Mediterranean
Two international airports, Florence and Pisa, that cover more than forty destinations throughout the world. A large commercial port, Livorno, with direct connections to the ten major ports of the Mediterranean. A 500 kilometer highway network, 1,400 kilometers of railway, and 1,450 kilometers of regional roads.
A connection with Rome or Milan in just one hour forty minutes, guaranteed by high speed rail connections. Direct and simple access to more than 75% of the national markets, within a radius of 400 kilometers. These are the logistics figures for Tuscany. Thanks to its central location, its infrastructures, and the services which it offers, the region presents itself as a strategic logistical platform in Italy, in the Mediterranean, and in Europe.
Florence, Pisa, Livorno, Lucca, Siena, Pistoia, Arezzo,
Grosseto, Massa, Piombino, and Prato.
Sardinia, Corsica, Isola di Capraia, Spain, and Morocco.
Among the busiest routes are Paris, Frankfurt, Amsterdam, Monaco,
Zurich, Madrid, London, and Brussels.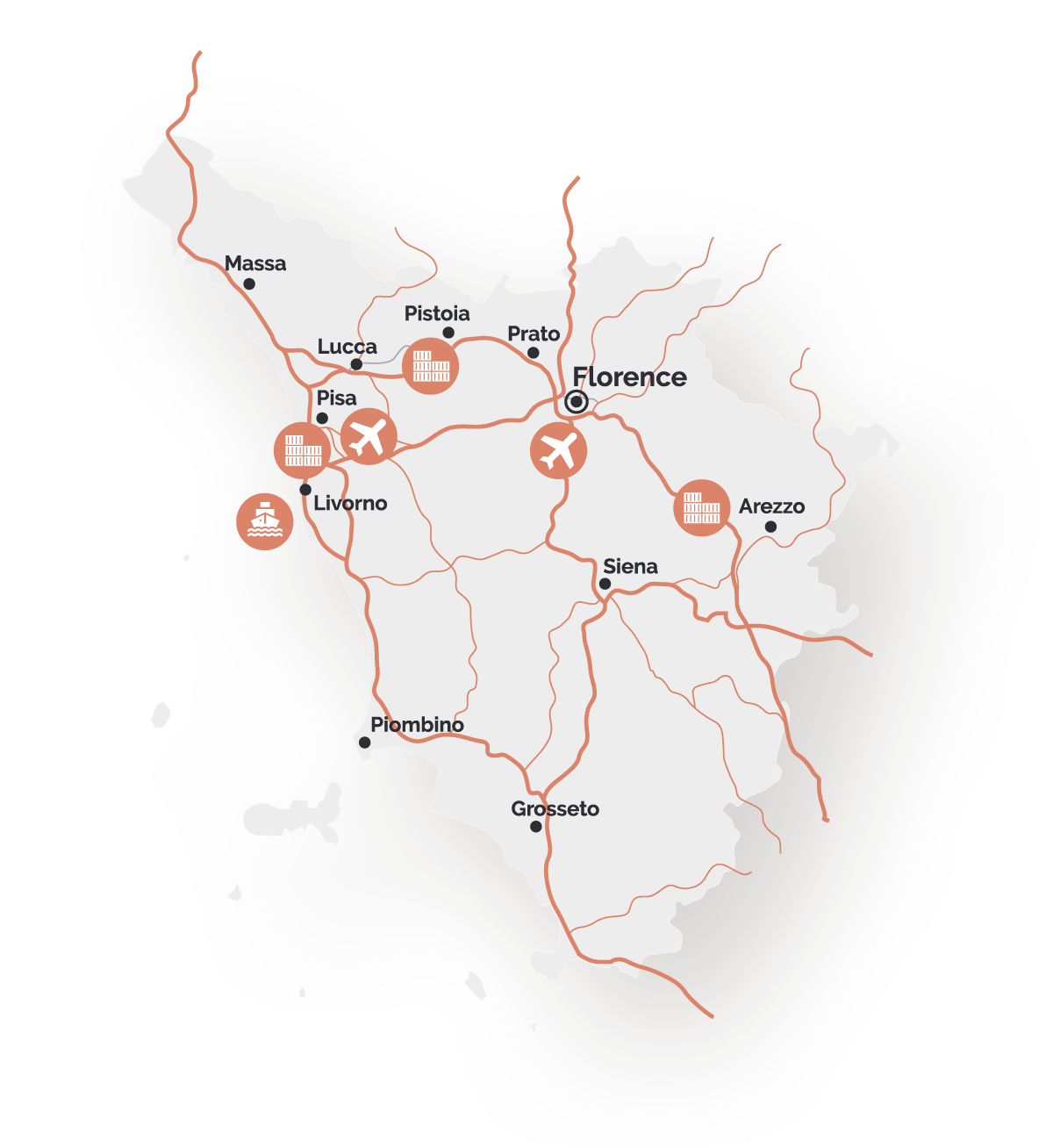 Leading factors
why to invest
The perfect logistic platform
and gateway to the european markets
Thanks to a modern and efficient network of connections, Tuscany is in continuous connection with the rest of the world. Three highways: the A1 Milan-Naples, which connects Italy from north to south; the A12 Genoa-Livorno, the most direct connection with France; and the A11 Florence Sea which is connected with the other two and to the Florence-Pisa-Livorno highway. The main Italian railway line crosses Tuscany and there are easy connections with Naples, Rome, Bologna, Milan, and Northern Europe. Two airports connect the region with the main airports in Italy, Europe, and other international destinations: Galileo Galilei Airport in Pisa and Amerigo Vespucci Airport in Florence, added to which are three smaller airports. The main port is Livorno, and there are nine other ports of national and regional interest in Capraia, Carrara, Piombino, Portoferraio, Rio Marina, Viareggio, Marina di Campo, Porto Santo Stefano, and Giglio.

22
Foreign companies
12 Multinational companies seem
to prefer the inner area (Florence, Prato, Arezzo).
1:30  
hour from Florence to Rome
1:40  
hour from Florence to Milan
75%
of the Italian market
In a radius of 400km
11%
of the national total maritime traffic
1
main commercial port in Livorno
With direct links to the 10 major mediterranean ports
The central position of Tuscany
Located in one of the largest economic corridors in Europe, Tuscany is a perfect logistic platform and gateway to the european markets and the mediterranean.

Connections by high speed train:
1:30h from Florence to Rome
1:40h from Florence to Milan

Access to markets:
Easy and direct access to more than 75% of the italian market (in a radius of 400km), made possible by an excellent transport infrastructure under continuous development.